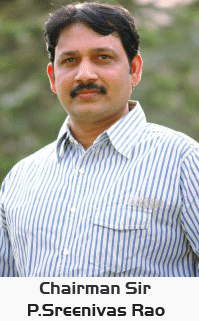  Geetanjali Group of Schools was established in 2004 with a noble cause of grooming the students to see greater heights in life and career under the chairmanship of Mr. P.Srinivasa Rao.
 Geetanjali which began as a tiny sapling in V.V.Nagar has spread its branches and dug firm roots akin to Banyan tree, providing high quality education and a strong foundation to the youth of the nation.
 Geetanjali Group of Schools are set up under Sri Chaitanya Bharati Educational Society founder and Chairperson Mr. P.Srinivasa Rao is the visionary behind the success of Geetanjali Educational Institutions in Hyderabad, Secunderabad and Bangalore. His vision for quality education has no boundaries. Education is his passion and to give quality education to the students is his vision.
 He has vast experience of more than 2 decades in the field of education. Apart from being soft and humble, he is a person, who is meticulous in his planning and dynamic in accommodating his institutions with the latest
technological amenities as supporting tools to the teaching and learning process. He is the first person to use PC tablets for the students in twin cities.
 Our Chairman emphasizes the importance of providing multi-dimensional, value based education to students.
 Education today is dynamic. Research into the teaching aspect has thrown many innovative methods of teaching. There is a deeper insight into the ways a child learns. So, he makes sure that our faculty is aware
of and trained in modern methodology of teaching and it is his intent to achieve the perfect teaching and learning environment. So as to facilitate the students and teachers to gain best possible results.